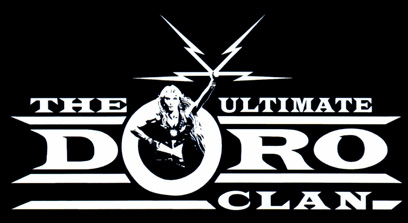 We are very happy that you are interested in joining the Ultimate DORO Clan, the official DORO Pesch Fanclub. As there is no time to waste let's start with the information on our Fanclub!!

The Ultimate DORO Clan is run by Melanie1 and Melanie2. Should you have questions, suggestions or if you just want to have an autograph just contact us - we will do our very best to help you!! Just send us an email ( ultimatedoroclan@aol.com ) or a letter ( The Ultimate DORO Clan , P.O. Box 1116 74370 Seersheim, Germany ) and we get in touch with you as soon as possible. Sometimes it may take a little while until you receive a response – please be patient, we try to answer all the Fan mail as fast as we can!!

As soon as there are hot DORO news a Newsletter will be published and will be send off to each member of the Fanclub automatically. Although the Fan club is located in Germany this doesn't mean that we don't publish our letters in English, too. Everything we send off to our members will be published in German and in English. The Newsletter sometimes even contains short reports written by DORO herself or other nice surprises. This way you will be the first to hear about the latest DORO events and are always up-to-date!!!

One of the best parts of our Fanclub surely is the Fan club meeting plus release party. Shortly before DORO is going to release a new album the Fanclub organizes a big party and all members are invited to join it. You can be sure that you are the first to hear the new songs! The last meetings showed that fans from all over the world came to join the ceremony. Germany, England, Italy, Spain, Russia and even the USA – no way too far to come along and meet DORO to have a beer with her or to talk to her in private. You can also meet a lot of other cool guys here and have a great time!!

You can be an active part of the Fanclub, too. Send us your stories, poems, drawings or whatever you want us to show in our Newsletter – we are always interested in your stuff and are really looking forward to your letters. Your contributions are highly welcome and will be published in either the Newsletter or on our webpage.

Talking about the world wide web, you can also visit our homepages www.doro.de and www.doromusic.com! You will surely find interesting stuff concerning DORO here! Sometimes the news arrive real late and there's hardly any time to send off a special notice then :( In this case please check out our homepage to inform yourself about current activities and news. The page is really always up-to-date! Just check it out – we're looking forward to meet you there.

As you can see there's a lot to bee seen and to discover. When becoming a member of the Ultimate DORO Clan you will receive a membership card which allows you to join all the FC events and a nice welcome surprise :)!

Please understand that we cannot finance all these things privately. We depend on you helping us. There is a tiny yearly fee of Euro 16 (abroad) and Euro 13 (home). This fee should be paid until March 31st a year (at the latest) for the current year but don't worry we keep you posted about that as soon as the payment is due. Should you decided to end your membership for whatever reason this isn't a problem at all. Just stop paying the annual fee and your membership ends automatically.

You can transfer the money directly to our FC account. This is the quickest and cheapest method of payment. Here's the data:

Remittee: The Ultimate Doro Clan
Bank code: 426 501 50
Account No.: 113 201 7599
Bank: Sparkasse Vest
IBAN: DE54426501501132017599
BIC: WELADED1REK

Please note that memberships are being processed as quickly as possible. We have been inundated with applications, especially with tour dates coming up, so the process is taking at least 4 to 6 weeks. Remember : You must send both the application form and the membership fee for one year – please keep that in mind!! A there is no application form on the internet so far please send an email to ultimatedoroclan@aol.com containing your full name , address (street, p.o. box etc., postcode/zip), the country you live in, your phone number , your email address and your date of birth - THANX

We hope to have answered all of your questions already. Should you wish to get more information just contact us! You can send your stuff to the Fan club's address or just send an email to: ultimatedoroclan@aol.com

It would be great to welcome you as a new member soon. Until then we wish you all the best, take very good care of yourself and Rock On...

The Ultimate Doro Clan
P.O. Box 1116
74370 Seersheim
Germany

doromusic

Email:
ultimatedoroclan@gmx.de

Facebook: https://www.facebook.com/The-Ultimate-Doro-Clan-366099806162/

The Ultimate DORO Clan – Team and greetings from DORO.